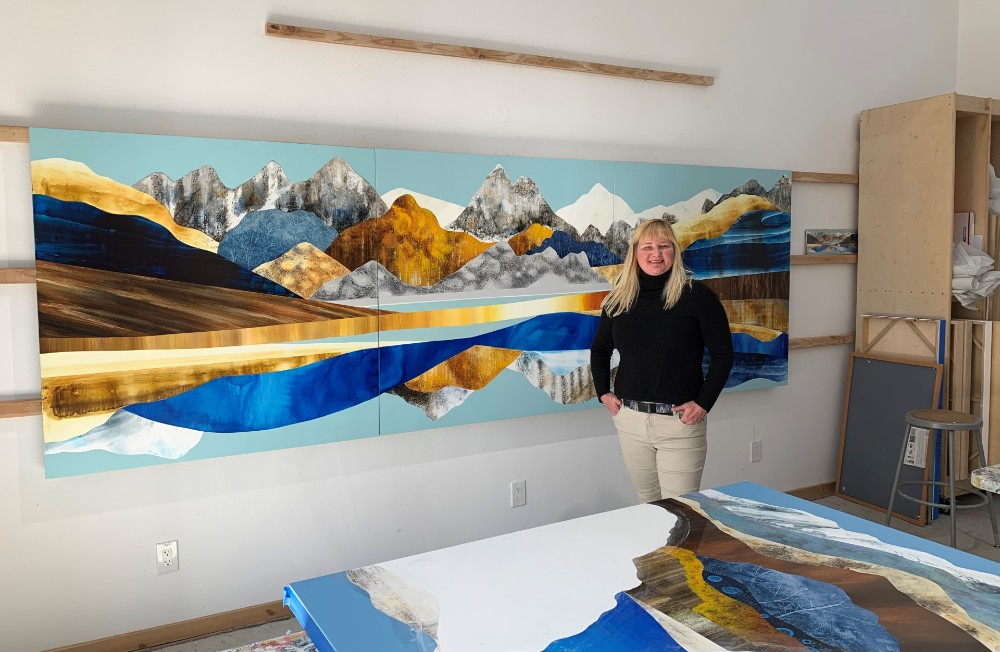 Front Range based landscape artist, Sarah Winkler debuts a premier solo exhibition on February 19th, 2022 at Vail International Gallery. Winkler 's contemporary take on depicting the Rocky Mountain West has rapidly gained in acclaim and reputation and is now represented by many galleries in the US. Her mountain landscapes have been featured in numerous solo and group exhibitions including the San Luis Obispo Museum of Art, San Luis Obispo, CA, Bakersfield Museum of Art, Bakersfield, CA, and the Cornell Art Museum, Delray Beach, FL. It has also been showcased at the LA Art Show, Art Aspen and the Jackson Hole Art Fine Art Fairs. Her work comes in all scales and has garnered several major art commissions for public and corporate art collections including a 15 foot commissioned original painting located in the entryway at Vail Health in Vail Village, Colorado. Her work is in private collections both nationally and internationally. Winkler is a participating artist in the US State Department's Art in Embassies Program. Winkler has also participated in an invitational exhibition at the Colorado Governor's Residence in Denver, Colorado.
Extensive features and reviews of her work have appeared in publications such as Times UK, ARTSY.net, American Art Collector Magazine, Scientific American, CREATE! and New American Paintings. MOMENT, a short documentary on Sarah by MAKING ART films, was released in 2019. Winkler has recently been named ' A Painter on the Rise' in "Women Artists To Watch' by the curators on Artsy.
This solo show of 20-25 paintings is an imaginative visual journey into the heart of the Rocky Mountains of Colorado in Winter. This new collection of paintings will explore and reveal the geology, ecology, precious gems, minerals and metals distinctive to the Central Rockies. The textural, layered and color rich paintings capture the dramatic snow capped peaks under dark skies, plunges below ground into silver veins and gold channels, meanders through its frozen waterways and enchanted forest floors. All the while chasing that elusive light of the Winter Solstice.